YOU ARE ALWAYS WELCOME HERE!
Join us in Worship, Prayer, Christian Education, Bible Study, Outreach and Fellowship.
Sunday Worship
We have a contemporary worship style, with a mix of praise songs and hymns. The service is from 10 to 11:15 a.m., followed by fellowship/coffee time. All are welcome! Entrance to the church's main sanctuary is through the front set of double doors. Handicap parking is on the right handside of the parking lot as soon as you enter.
Children from age 5 through fifth grade are invited to join in the Sunday morning worship, then, after after a mini lesson they leave together for
Children's Worship
in the chapel.
Nursery Care
Care for infants and children under the age of 5 is provided from 9:50 to 11:15 a.m. Children 5 and older take part in
Children's Worship
. The location of the nursery is located in room 105 towards the back of the church.
Communion
The Sacrament of the Lord's Supper is served the first Sunday of each month. All who Profess Jesus Christ as Lord and Savior are invited to partake of it.
_________________
Driving Directions
We are located at 38 West End Avenue in Old Greenwich, Connecticut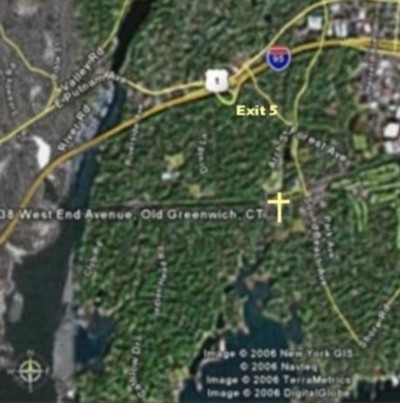 Directions from Interstate 95, N or S:
Take Exit 5 (Riverside/Old Greenwich). At the end of ramp, turn right onto U.S. 1. At the next intersection,turn right onto Sound Beach Ave.
Follow Sound Beach for one mile into Old Greenwich.At the first stoplight, turn right onto West End Avenue.The church is located in the second block on the left. Plenty of parking in the church parking lot.
Directions from Connecticut Route 15 (Merritt Parkway):
Take Exit 34, south on Route 104 for approx. 1.5 miles.
Take R fork onto Stillwater Road. Continue south for 2.5 miles.
Turn right at traffic light onto Palmers Hill Road (opposite golf course.)
At stop sign, turn left onto Havemeyer Lane (becomes Laddins Rock Road south of U.S. 1).
One mile to traffic circle at Sound Beach Avenue. Follow Sound Beach
into Old Greenwich and turn R at the first light onto West End Avenue. Plenty of parking in the church parking lot.
Global Positioning System Coordinates
41 01' 53.04" N
73 34' 16.44" W